Outsourcing: IT Services for Small Business
Different companies have differing needs. You might need someone to handle a one–time issue, perhaps you're looking for end–to–end IT services –– or something in between. Latest Developments offers a variety of IT services and service packages to meet the varying needs of our clients.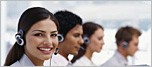 There is a distinct advantage to dealing with a small, local firm. Every account is a significant part of our business, and we treat you accordingly. Have you ever tried using 1–800–SUPPORT? How many people did you have to speak to? How much did they know about you and your business?
We provide a personal touch and establish a direct relationship with our customers. Unfortunately, problems are inevitable in IT, but when they do occur, they will be taken care of quickly. Rather than simply sending you a new part, we come on–site, fix it and get you back to work.
Advantages of outsourcing our services include lower IT overhead, control over your IT infrastructure, professional helpdesk support, ongoing computer, networking and software maintenance, as well as priority scheduling if a crisis ever does arise.
To find out more about how outsourcing can save you money and why LDI is different from most other technology providers,take a look at our IT Support page in the Services section.
Most of our customers find that the most cost-effective choice for them is using one of our on our service plan options; for details, please visit our SecureIT Support Plans page.

Contact us to find out more, to set up an appointment or to take advantage of our FREE Systems Consultation offer.