Website Design & Development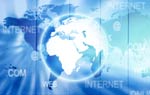 Looking to attract new customers – and perhaps expand the business you do with your current clients? Most companies are! One of the most visible and cost effective marketing tools at your disposal is a well–designed website. Customers in today's marketplace demand instant access to your company info. If it's not readily available, many will move on to one of your competitors. Make sure they can find you!
Websites are no longer just for large corporations. They are quickly becoming mandatory for every size of business in almost every industry. Not sure there's room in your budget? Don't worry –– we can start you off slowly with one of our introductory packages.
Our package includes:
| | |
| --- | --- |
| | Consultation to determine the needs and focus of your website |
| | Design* of 5 page site using our professionally designed sample layouts |
| | Integration of logo and tagline |
| | Cleanup and integration of images |
| | Implementation and testing of site |
*Design occurs after customer provides colour scheme, graphics and web copy

Benefits of a Website for Small Business
One of the biggest challenges for a small business is finding a way to inform potential clients about their products or services. Since most companies do not have the budgets for a lot of advertising, it can be difficult to effectively get your message out there. The web provides an ideal forum for that.
Accessible by anyone from anywhere at any time. No matter where your target market is, you are able to reach an almost limitless number of customers with a website – and they are able to instantly access information about your company whenever it's convenient for them.


Less expensive than brochures. It's not likely that you'll be able to eliminate the need for brochures and other printed materials entirely, but with a website, customers can go online to access your company's information, allowing you to significantly reduce your printing and distribution costs.



More informative. Your brochures may still be useful in attracting a customer's initial interest; however, it is difficult to include all of the information that they may need about your company or its products/services without printing an entire booklet. A website can easily include marketing info, product catalogues, technical specs –– anything that you want it to!


Dynamic. One of the problems with printed material is that once it is printed, it's pretty difficult to change it. Changes can be both time–consuming and costly. With a website, changes are easily made on a regular basis. Therefore, your website can be used to post information that may change frequently, such as new product information, updates, promotions, price lists, special events, new locations, etc. It can be done almost instantly, and at a minimal cost.


Professional image. A website gives your company some added credibility. Customers want to know as much as they can about who you are before they enter into a business relationship with you. The information they are able to obtain on your website can provide them with the added confidence they need.

And, if you're still not quite ready for a website, we suggest you take a look at our Web Services page.
If you have questions about any of our web–related products or services, please
contact us
to set up an appointment.