The Check's On Us!
Free Advice From the Experts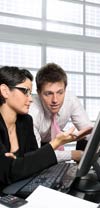 Ever wonder if your systems are running the way they should be? If there's anything you could do to make things run a little more efficiently? If you have any areas of vulnerability that you might not be aware of?
Whether you've already got a network in place – or you're just considering it as a possibility –– wouldn't it be nice to consult with an expert? Someone who could give you some advice on what you can do to secure your systems and make things run better?
To request your free consultation, please click on the link below: