IT Support – for Customers Without an IT Dept
Why do you need Professional IT Support?
Many companies think that they can save money by maintaining their own computer systems. Although this can be true in the short–term, it usually doesn't pay off long–term.
Without proper configuration and on–going maintenance, systems do not operate as efficiently as they should be. This means that time–critical operations within your company are probably not running as efficiently as they should be either. That could mean missed deadlines, poor customer response time, employee overtime, etc.
Eventually, systems that have not been maintained properly will fail. System failures result in employee downtime – and when staff members are not working, it is costing your company money.
If systems are not properly backed up, all of their data can be lost – FOREVER! Customer contact information, sales history, supplier info, payroll, inventory, project planning, etc – all gone! Trying to rebuild those files and databases is enormously time–consuming – and, in some cases, impossible to do.
Your systems can be set up to help improve file–sharing and communications amongst your staff, as well as with customers and suppliers. This helps your organization run a lot more efficiently.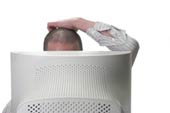 These are just a few of the issues that can result from systems that are not properly maintained and supported. Over time, all of these factors add up –– and the money that you saved by maintaining your own systems is quickly eaten up by all of the downtime, inefficiency, lost data, etc.
Why should you Outsource vs. Hiring In–house IT Staff?
Now that we've convinced you of the benefits of using professional IT support, you're going to wonder if it wouldn't be better to simply hire an in–house Tech Support employee. For some companies it is, but not for most small businesses.
With in–house personnel, you have to pay full–time salaries, despite the fact that many small businesses don't need full–time IT services.
If you were to hire someone, it would likely be a junior technician who has limited experience. With outsourced support, you have access to technicians with a broad range of expertise.
Even if your in–house technician is able to figure out some of the more complicated issues, it will most likely take them a lot longer to do so – this results in more downtime while problems are being diagnosed and resolved.
Junior technicians generally move on to new jobs fairly quickly. With an IT provider, you have continuity in support from an organization that is familiar with your systems and your operations.
The bottom line, for most small businesses, is that outsourcing will generally cost you less and provide you with a far better level of support.
Why should you use Latest Developments' Services?
In addition to the fact that we are a well–established IT provider that has been around since 1989, we offer a few other key attributes – some of which are pretty hard to find within this industry:
We specialize in small business customers. We are a small business ourselves, so we understand many of the day–to–day issues you are facing. We are also certified Microsoft Small Business Specialists.
Because we are a small business, every one of our clients is an important part of our business – and we treat you accordingly.
We're big enough to handle all of your technology needs, but small enough to provide you with personal hands–on service and support.
We offer you a single point of contact for all of your technology needs vs. trying to manage multiple vendors for different needs.
As your IT partner, we treat your budget as if it were our own, which helps to keep your costs under control.
We provide priority scheduling to our clients in the event of a crisis.
We have a unique approach to IT: we are small business consultants with technology solutions. We understand business issues and look for ways to use technology to solve those issues and to promote the overall success of your company.
We can help you to Eliminate the Cost of IT
We believe our clients deserve the Value of Quality Service
Our Partnership philosophy
LDI Support Services
Latest Developments offers a full range of support services. Below is a sample listing of some of the services we currently provide to our customers:
Network Design, Implementation & Administration
(* see our Networking page for more details)


Remote & On–Site Tech Support


Professional Help Desk Support


PC/Server Configuration & Installation


PC/Server Repairs, Updates & Maintenance


File Backup & Restore Services


Software Upgrades & Maintenance


User Training
Most of our customers find that our monthly support packages are more advantageous for them. By providing on–going maintenance service, we can be proactive in identifying and resolving issues before they become major problems. However, if you just want to try out our services initially, we also offer pay–as–you–go options. No matter what your current –– or future –– needs, chances are that we have an option to suit you.
You might also want to take advantage of our FREE Systems Consultation offer.
Please contact us if you need further information or would like to set up an appointment to assess your IT needs.